Due to popular demand, we've added a bunch of new perks to our indiegogo campaign.  Check them out here: http://bit.ly/makeNPW .

CREATED BY
Get a one-of-a-kind doodle from Kyle OR become immortalized by scribe Shawn as he writes a paragraph or two about YOU as a Neverland Pirate, Lost Person or Mermaid!  Change your donation to $25 and get BOTH!

ACORN NECKLACE
Only 4 remaining, never to be made again – This is the necklace that Peter Pan made for Wendy Darling as an apology for forgetting her birthday. This sweet good-luck-charm-turned-necklace captures both how Peter and Wendy met and their wonderful relationship. Hand-crafted by Peter Pan (Kyle Walters) – 18″ of 1mm sterling silver curb chain

THE MYSTERY PERK
Get this Mystery Perk… only available on this Indiegogo!  It'll tie in to a heartwarming episode in Season 3, so you won't want to miss out on this magic.
SEASON ONE DVD
Get the Season One DVD! comes with 11 bonus videos (including the halloween special, trailer, gag reels and more!) AND you will receive the "Happy Thought" package!
ONE-ON-ONE VIDEO CHAT
One-on-one video chat with YOUR CHOICE of one of the following people: Kyle Walters (Peter Pan, Creator), Paula Rhodes (Wendy, Producer), Shawn deLoache (Writer, Creator), Jenni Powell (Casting, Producer), Katie Moest (Production Design), Brennan Murray (Michael), Graham Kurtz (John).  You'll get to pick our brains about career, life, your projects, our projects, etc.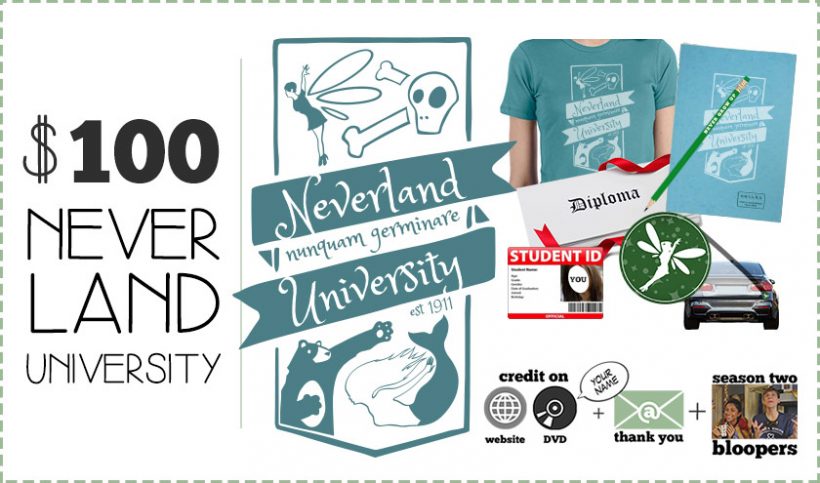 Neverland University Pack
Show off your school pride with your Neverland University Tshirt + Unique Student ID Card with Your Picture on it + a Diploma for graduating (that was easy!) + Tink Car Magnet + School Folder + "Never Grow Up" Pencil AND you will receive the "Happy Thought" package!