NEVERLANDIANS, Shawn here, your loyal scribe, with exciting news, The New Adventures of Peter and Wendy WON THE GEEKIE FOR BEST SCRIPTED SERIES! While that's 50 Shades of Awesome in and of itself…what really makes it special…what really makes it meaningful…is why we won…YOU. The Geekies' winners are chosen through fan votes. We were up against some incredible shows, shows with far more views and subscribers than ours. They had the numbers on their side…we had you…almost seems unfair to them huh? It was you taking the time to vote for us everyday for weeks on end that put that beautiful blue laser gun trophy into our hands! The award is just as much yours as it is ours.
It truly is a humbling experience having such incredible fans. You have to understand that the term starving artist is very, very real. Everyone on our team has been working (or trying to work) in this industry for years. We have all made countless sacrifices emotionally, physically, financially… questioned our choice to pursue the arts on an almost weekly basis…and are constantly left wondering if this struggle is really worth it. Well you, Neverlandians, have proven that it is. As cheesy as it may sound, we're a lot like Tinkerbell…and you believing in us really does keep us alive and going.
I want to share a little bit of…well I won't call it wisdom cause I'm not sure I'd label myself as wise…but something I've learned about the arts that I think applies to life in general…AHEM…People say it takes thick skin to survive this industry, but we're artist, we're sensitive by nature and our skin isn't thick, it cuts easily by our very nature and has to stay thin so we can feel and create and be. So for me it's not thick skin you need, but strong legs. This field will knock you down and tear into you time and time again. It will beat you down emotionally, spiritually, physically, and financially till you can't remember what it's like to not be on your knees…and that's why you need strong legs…to get back up again…to keep climbing the mountain…to keep going. You NEVERLANDIANS are our legs. This word doesn't feel powerful enough but it's the only one we have, on behalf of the entire Peter and Wendy family…THANK YOU.
Honored to be yours,
Shawn deLoache
Now…PICTURES!
Here is the big moment YOU made happen! The NPW fam (Left to right: Graham Kurtz, Matt Breault, Kyle Walters, Shawn deLoache, Jenni Powell, Paula Rhodes, and Katie Moest) up on stage with the coveted Geekie!  BONUS: See that Phone Booth? That's from BILL AND TED'S EXCELLENT ADVENTURES!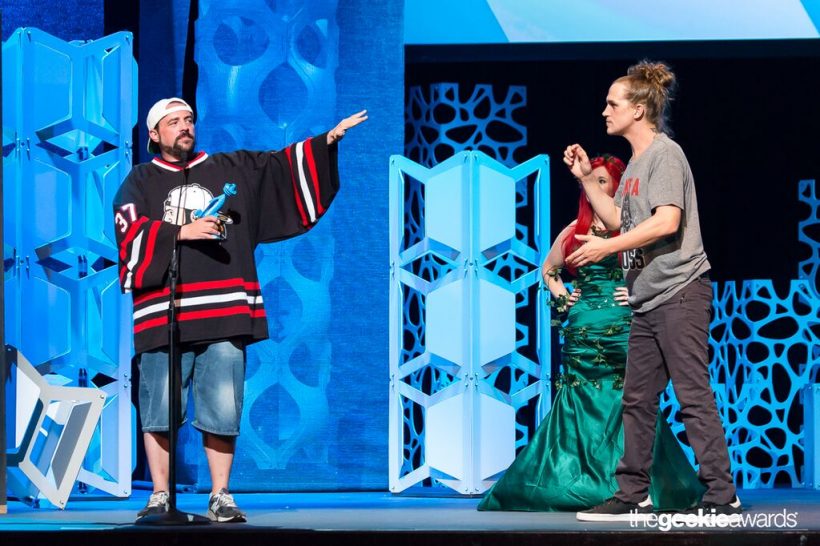 Though not showing any Neverlandians, I had to share this picture of Kevin Smith and Jason Mewes. Kevin received the Geekie Pioneer award, and during his speech him and Jason re-enacted the hallway fight scene for Netflix's DareDevil…it was legendary.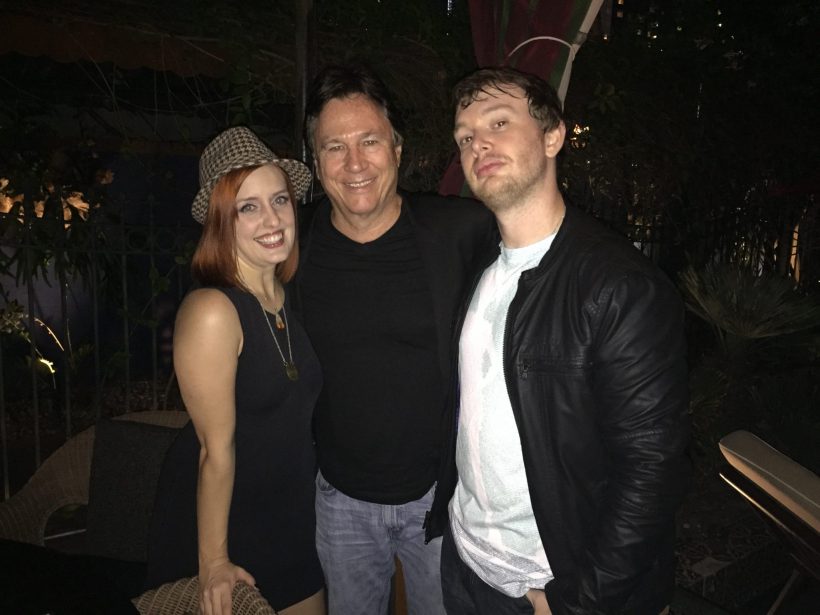 Here I am with my love, actress/writer Lena Thomas at the Geekies pre-party with RICHARD HATCH from Battlestar Galactica!  Being huge BSG fans, Lena and I were fraking out.  Richard's show AXNAR, a Star Trek short, also won a Geekie!
 Pan fam members at the Geekie's pre-party! Left to right: Marken Greenwood (Transmedia), Kim Brunner (art department) Paula Rhodes (Wendy Darling) Graham Kurtz (John Darling) Lovlee Carroll (Lily Bagha) Kyle Walters (Peter Pan) and Matt O'Neil (Actor, director, Lovlee's other half!)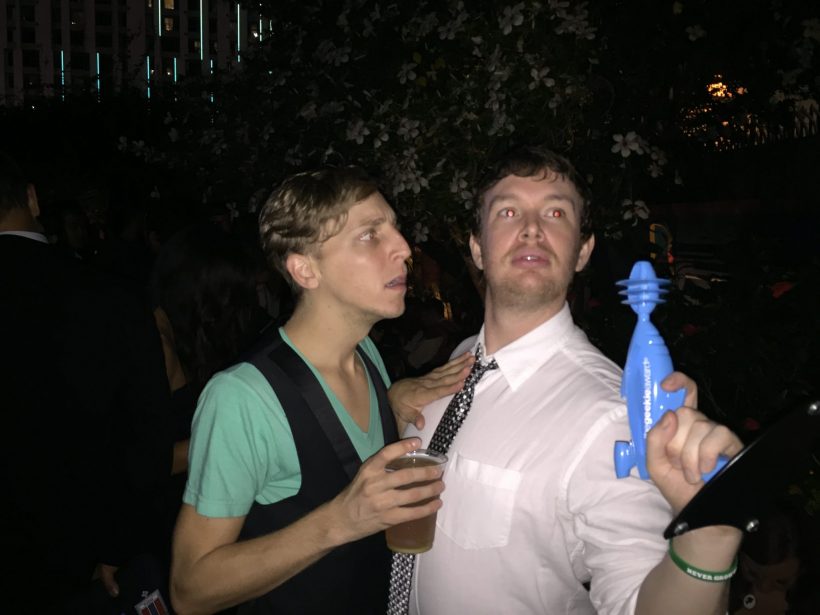 Brennan Murray (Michael Darling) and I posing for the cover of our new space adventure romance novel.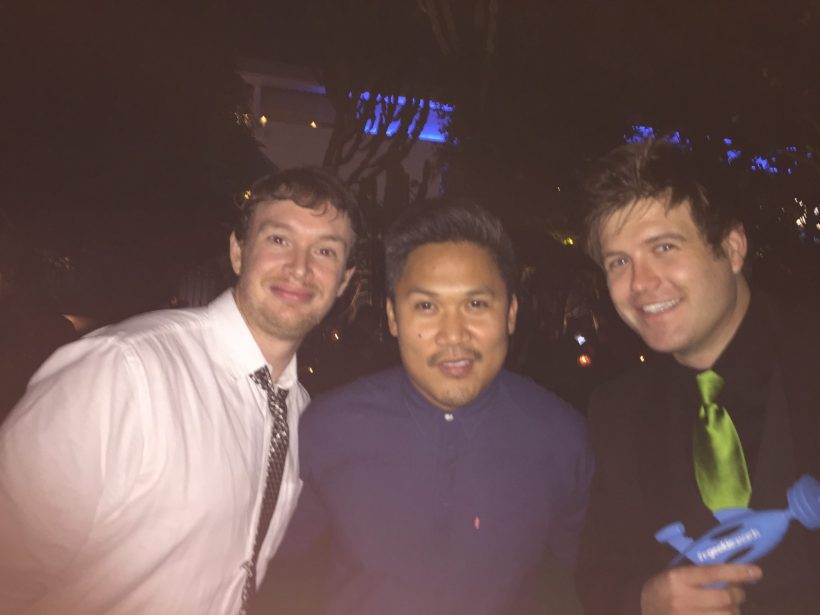 How legendary is this moment? That's Dante Brasco, AKA RUFFIO (and for you Avatar fans: Zuko) with Kyle Walters, AKA PETER PAN and myself AKA…um…Shawn!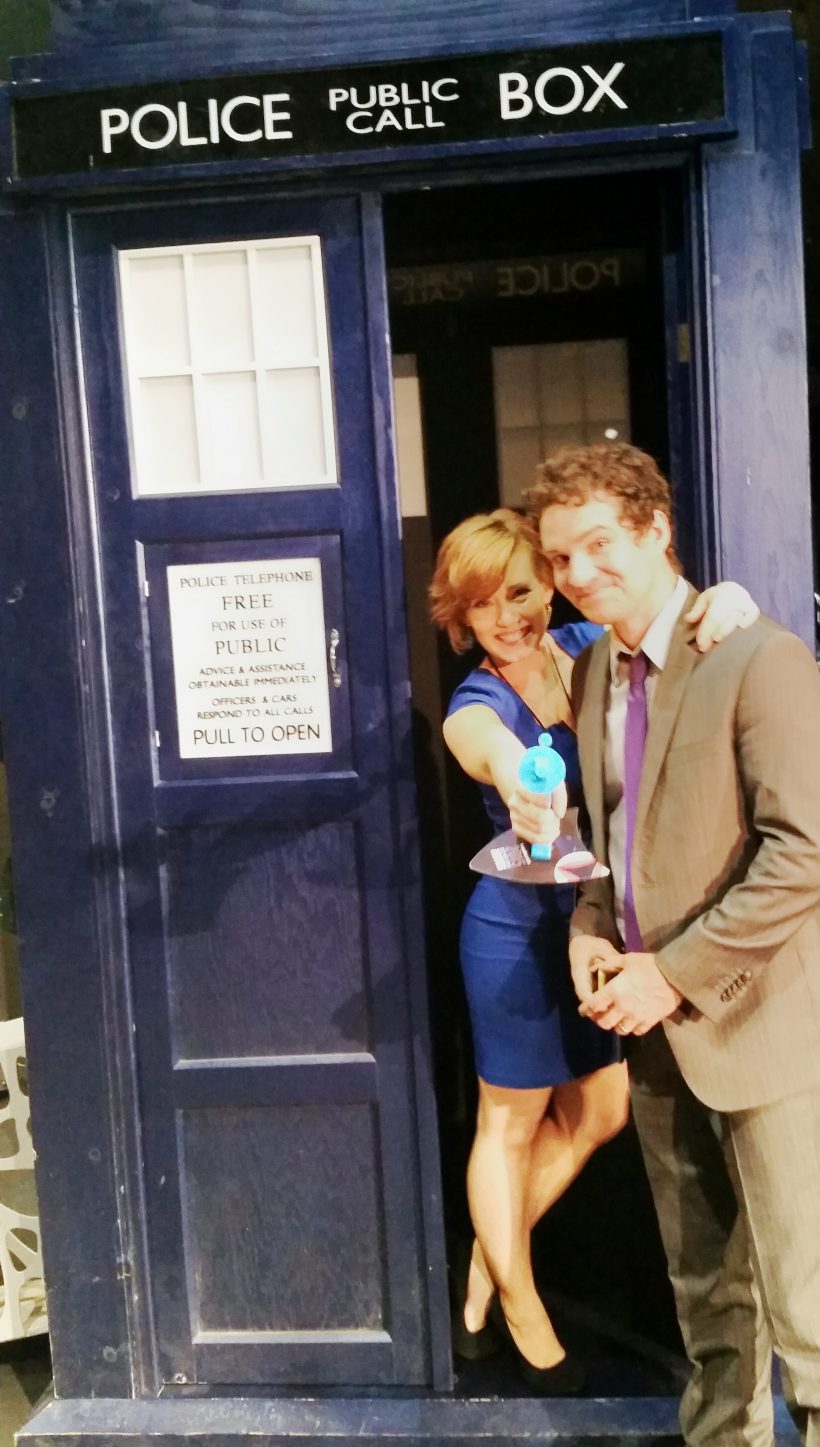 Paula Rhodes and her love, actor extraordinaire, Charlie Bodin about to have some adventures through space and time!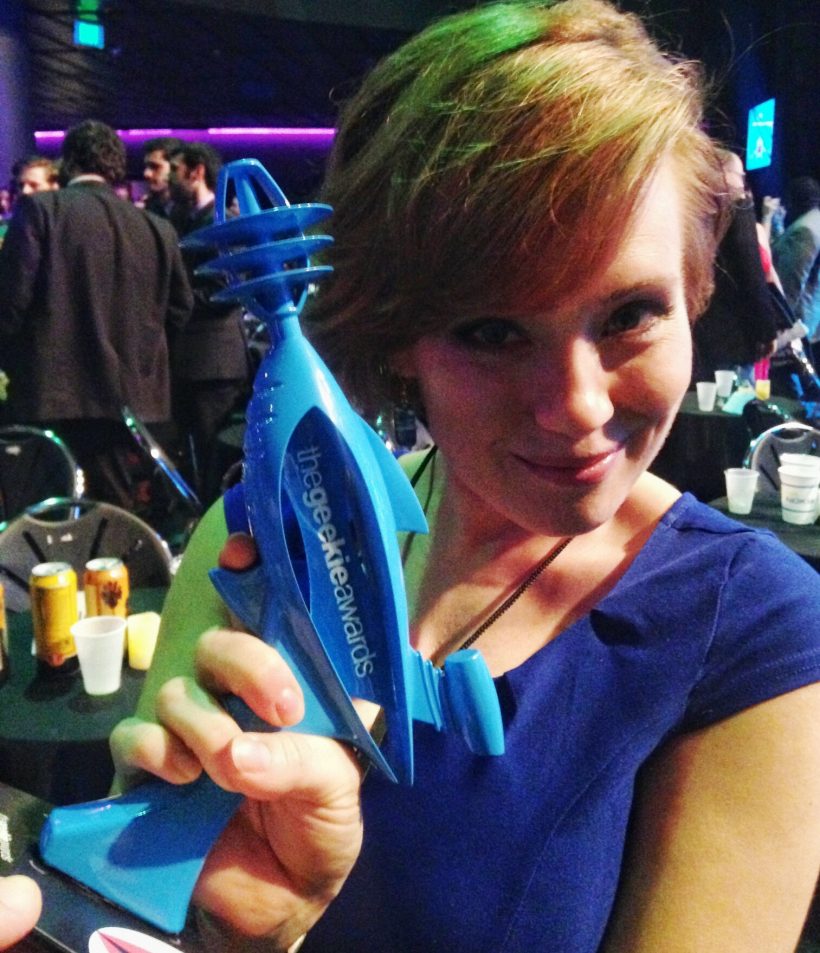 Paula looking all bad ass space princessy with our Geekie award!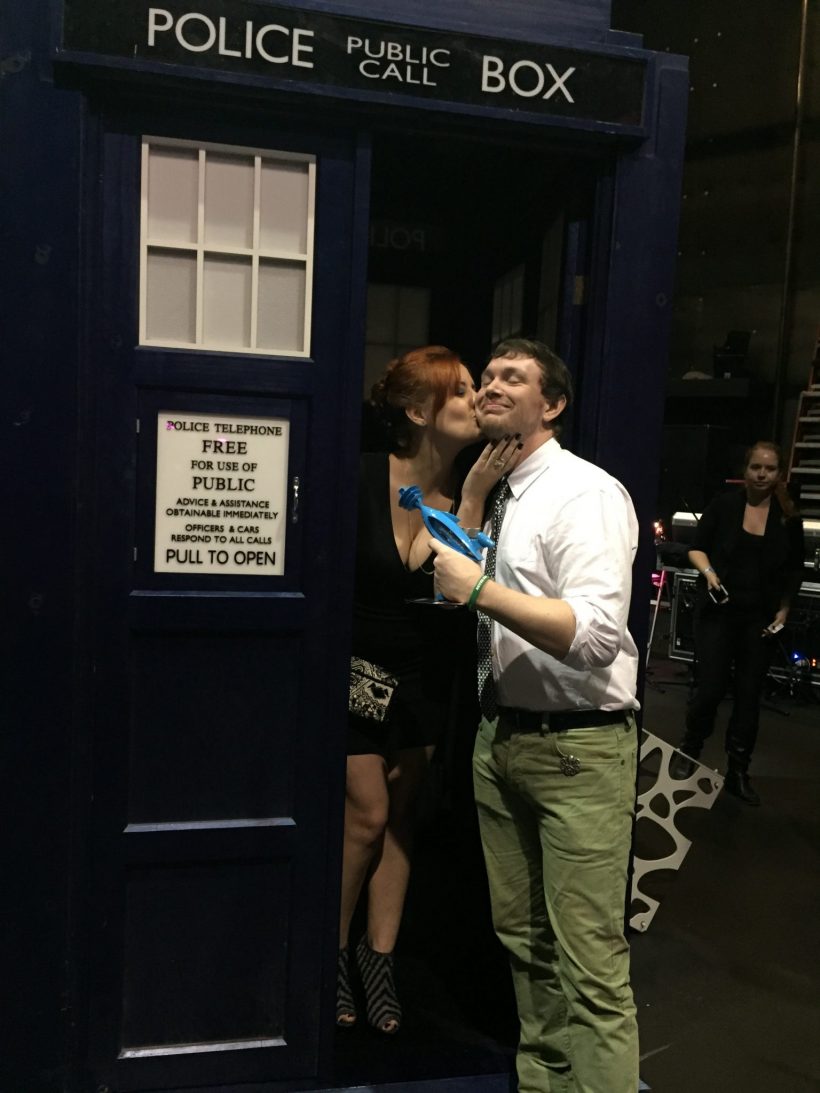 Lena Thomas, kissing me, in the TARDIS, as I hold a laser gun trophy…I think all my dreams just came true!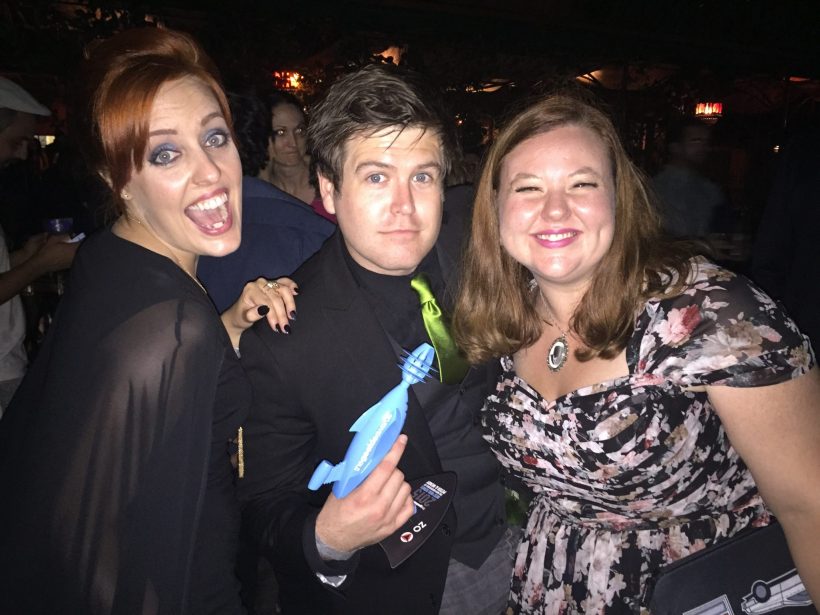 Lena Thomas, Kyle Walters, and Katie Moest just standing around casually.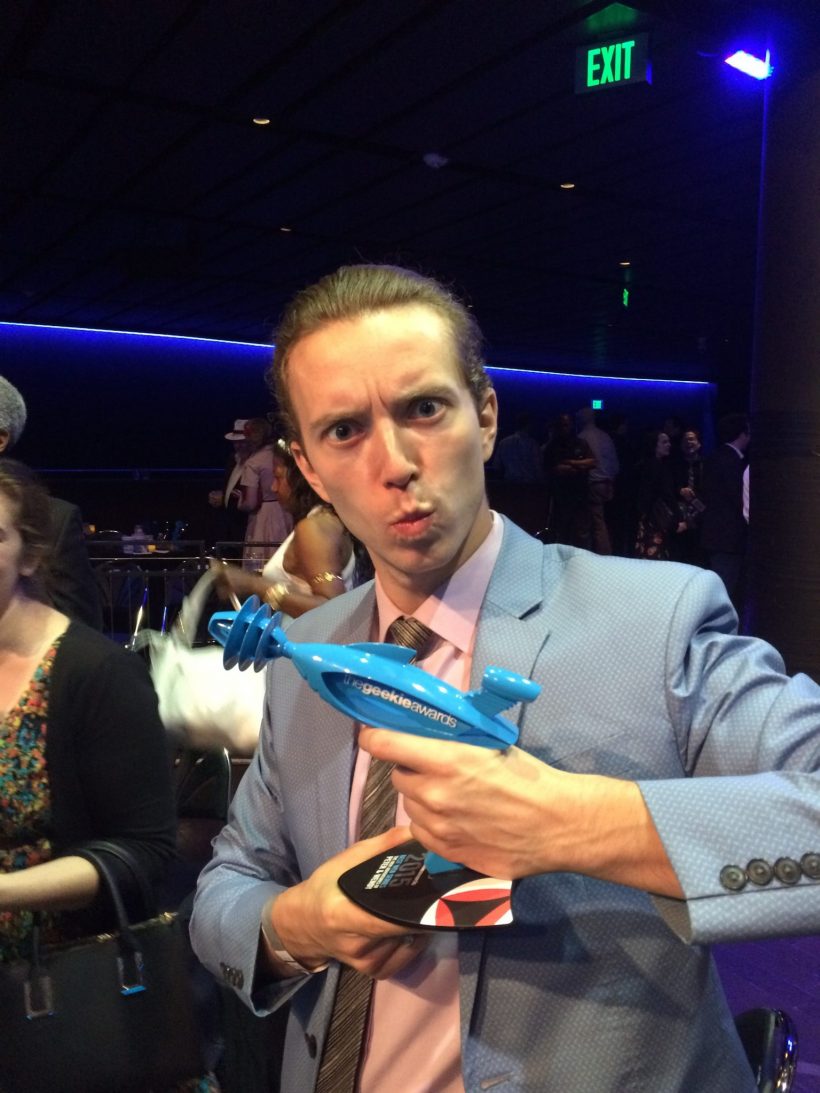 There's no better way to end our picture tour than Graham Kurtz posing with the Geekie like Gangsta! A geekie gangster…and Geekster!